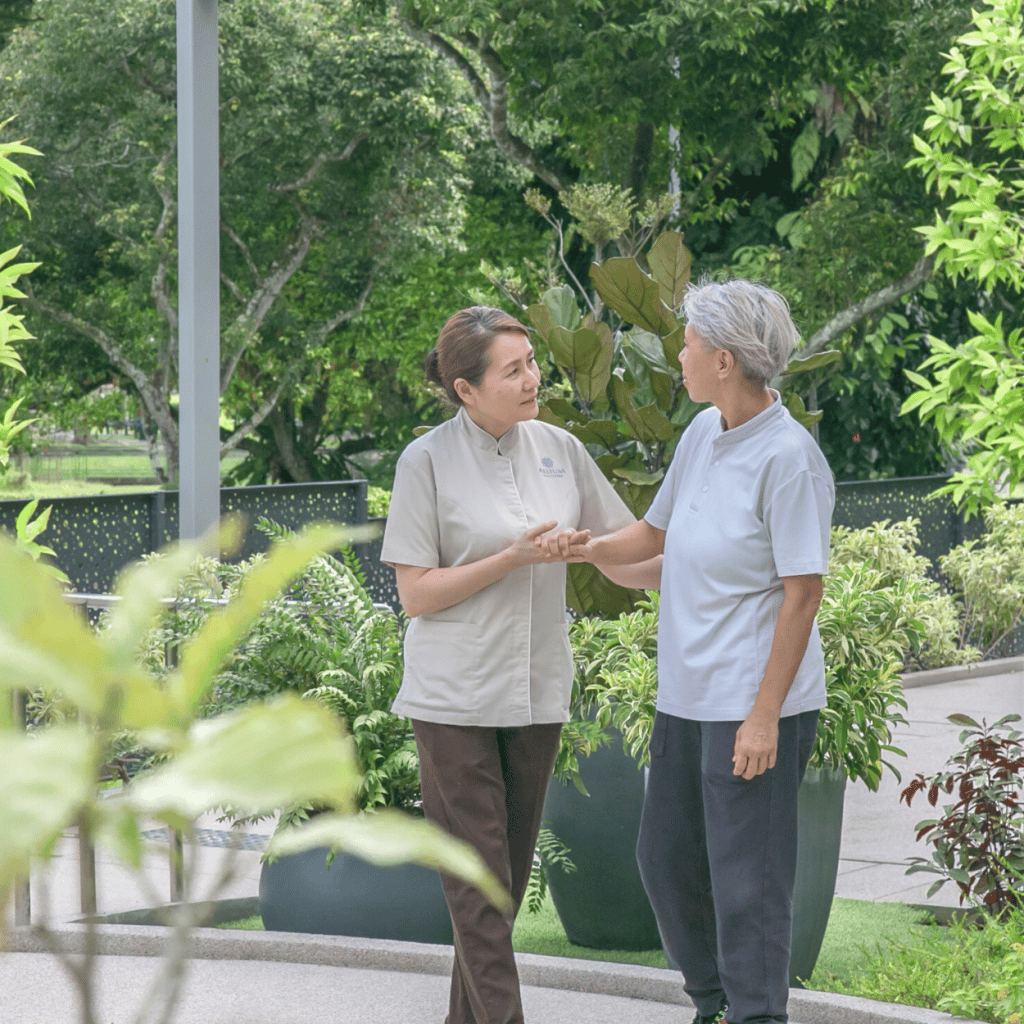 At Allium Healthcare, we invigorate a sense of empowerment and support your decision-making process to give you a sense of belonging in our community. As you grow with us and your needs change, we adapt to provide you with the best healthcare experience possible.
Our interdisciplinary team of healthcare professionals will support you throughout the entire process of pre-admission, care transition and your care journey.
Experience the Allium Healthcare approach at Allium Care Suites. Begin your journey to wellness with four simple steps.
At Allium Care Suites, a registered nurse will begin the conversation to understand more about your lifestyle, preferences and clinical needs. You are welcome to involve your family or caregiver during the screening. The registered nurse will determine your care needs based on care components related to mobility, feeding, toileting, personal grooming and hygiene, nursing treatment requirements, and social and emotional needs. This allows us to personalise your care plan effectively. A recent copy of your medical report or discharge summary will be helpful in ensuring a seamless continuity of care.
At Allium Care Suites, we provide the following types of residential care.
This can range from assistance with personal care or daily activities through to continuous nursing care. Our certified healthcare professionals embrace individual, quality of-life-focused care with a mission on reinforcing retained abilities as a positive approach to living longer, living better.
Respite care provides temporary relief for caregivers to take a break from prolonged caregiving. 
It is an option of consideration in the event of an unexpected caregiver issue, an emergency, postoperative care needs or a planned holiday.
Tailored to individual needs, for a week or a few months, we deliver peace of mind in care transition, ensuring the continuity of care for an elder requiring assistance with daily activities or consistent nursing care.
Led by our Care Team who are specifically trained in dementia care and management, our care  therapy includes general monitoring, assistance with activities of daily living (ADL) and activities and exercises to promote independence and improve cognitive function. Our dementia care suites are furnished with enhanced dementia care ergonomics; clear wardrobe doors, colour coded bathroom fittings, light switches and light panels, for ease of vignette recognition. 
To help you understand the cost of care provision during your care journey, an outline is provided in this section.
The direct entry charge is dependent upon two components:
Choice of accommodation
Type and category of care needs
Our business office team will provide an estimated bill and guide you through the care charges upon completion of the pre-admission assessment. The team will highlight important clauses in the service agreement. Advance payment is required prior to admission. Additional charges may be incurred if you require additional higher acuity care.
Accommodation charges include room, meals and refreshments, and amenities related to housekeeping, basic clinical management, allied health care and recreational activities.
All suites are furnished with the highest standards of eldercare ergonomic furnishings, from large single electric beds to wardrobes with retractable rail for wheelchair users, and en suite bathrooms with adjustable basin, arm rest and grab bars. Depending on your selected aspect, our suites offer views of either the Venus Drive or Upper Thomson streetscape or verdant landscape surrounding Windsor Nature Park. Air-conditioning, Wi-Fi, digital TV service and your personal Care Concierge complete your every need.
At Allium Care Suites, we offer four types of private suites with en suite facilities; Single, Companion, Executive Single and Executive Companion, with the option of a private balcony. 
As a licensed residential home, our clinical Care Team will need to assess your activities of daily living (ADL) related to mobility, feeding, toileting, personal grooming and hygiene, nursing treatment requirements, and social and emotional needs to determine your care charges.
If you require financial support, you will need to be referred by a doctor to certify your needs for residential care, followed by a means-test to assess eligibility and the level of subsidy. Our Medical Social Worker can guide you through this process if you require financial assistance.  
Additional services are those not otherwise covered by accommodation and basic daily care charges. These include additional higher acuity care and allied health care, enhanced leisure and recreational activities, and well-being services.
We want to make your application process as seamless as possible. Our Care Team will work closely with you to ensure a smooth transition process. To begin your care journey, arrange a private preview:
To facilitate the application process, please provide the following medical documents:
Updated copy of your medical report, discharge summary or medical memo and
A recent chest X-ray report obtained within the past six months
Transitioning into our care
Prior to your arrival, our business office team will discuss a preferred admission date and time. The following outlines the administrative process led by our Care Team during admission into your Care Suite.
An administration officer will welcome and guide you through the admission process and help you with completion of required documents.
Your Care Suite is furnished with most of the furnishings you need. You are welcome to bring small personal items. These items may include audio devices, photo frames, seat cushion, books, mobile phone, tablet or laptop.
An optional, transition service provides ease and convenience and takes care of the challenges associated with administrative duties for long staying residents.
Please label all clothing with fabric markers or waterproof labels for laundry purposes. Our Care Concierge can assist you with labelling on the day of your arrival. 
Our team of dedicated healthcare professionals will welcome you and help you settle down into your new home.
Our Care Team will discuss the following with you:
Management of personal belongings
Orientation of our fire safety and nurse call assistance system
Personal preferences related to meals, interests, activities and lifestyle
Nursing Assessment and Plan of Care
We endeavour to deliver the best care and protection for our residents and staff. In the current climate, all visitors are encouraged to self-test ART negative on day of visit. Please contact our concierge at 6335 0606 for appointments and assistance.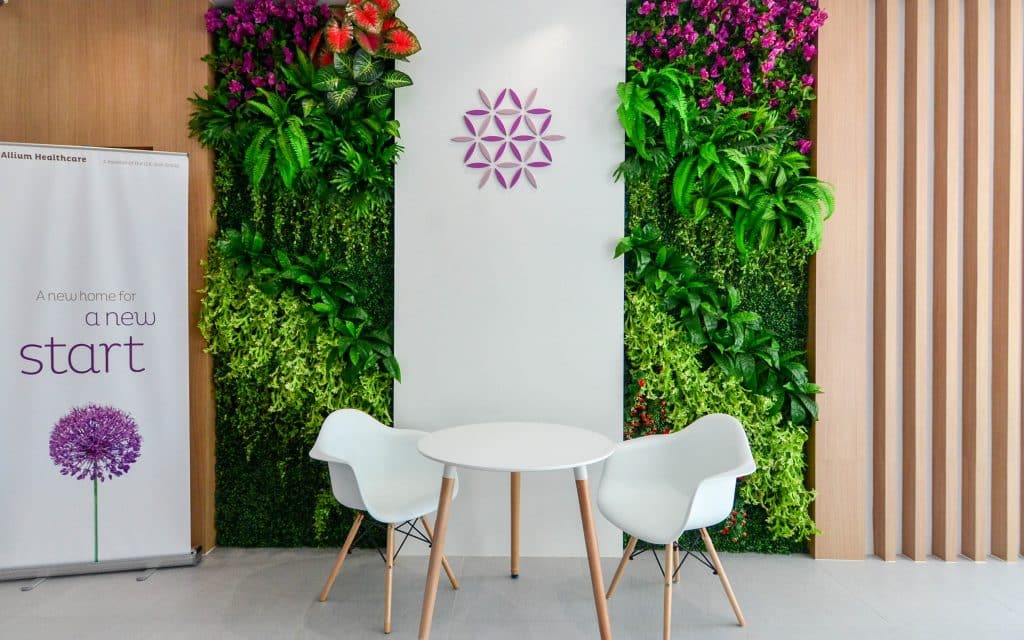 Our focus is on improving the quality of life of elders. From our Care Concierge approach to our comprehensive programmes and our rehabilitation equipment, Allium Care Studio aims to provide care that is responsive to specific needs and preferences.
We ensure a low client to staff ratio which is key to our high touch service, allowing for individualised care plans for each and every elder.
The integration of our day care and residential care, together with home care services, serve as an aged care hub for the surrounding community and delivers a comprehensive solution within one facility.
We deliver immediate access to specialist aged care with shorter waiting time for assessment and ensuing appointments.
When we receive new clients, we devote a considerable amount of time analysing the intricacies that make up their health status; their functional and cognitive performance, medical history and personality.
The care assessment is led by our interprofessional Care Team (IPCT) of experienced physiotherapist, occupational therapist and community nurse who involve your family members and primary caregiver. Together, we discuss care goals and expectations, and understand specific needs and personal preferences to deliver a comprehensive care plan.
Our programmes are built on the philosophy of Function Focused Care (FFC) and supported by our interprofessional Care Team at every phase of your development.
The FFC philosophy involves integrated and dedicated interventions related to physical, psychosocial and cognitive functions. Functional use of the mind and body is important to the quality of life and clinical outcomes for the elderly.
We focus on optimising functional capabilities by encouraging you to perform and participate in basic routine activities related to dressing, eating, personal hygiene, mobility, and locomotion.
Our goal is to help you attain and maintain your highest possible levels of independence, development and well-being. And key to our comprehensive approach, is regular review of the care plan with updates to family members.