Angelo Teo
Facility on Venus Drive is entry point for subsidiary Allium Healthcare to become a long-term provider of elder-care services. The 129-bed, four-storey nursing home is designed to be more like private residences, such as apartments and condominiums.
Angelo Teo
Facility on Venus Drive is entry point for subsidiary Allium Healthcare to become a long-term provider of elder-care services. The 129-bed, four-storey nursing home is designed to be more like private residences, such as apartments and condominiums.
The groundbreaking ceremony for Allium Healthcare Holdings's maiden nursing home project on Venus Drive was held last month. Allium Healthcare is a wholly-owned subsidiary of investment holding company GK Goh Holdings. It was awarded the 30-year leasehold site last December.
Allium paid $24.3 million for the 4,000 sq m site, and intends to build a four-storey, 129-bed facility with a built-up area of 5,600 sq m. The development cost of the project is estimated to be $40 million to $45 million.
The nursing home is designed to be a premium product in terms of services and facilities, says Bernie Poh, CEO of Allium Healthcare. He says there is demand for this kind of facility among the middle- to upper-income group, especially in the neighbourhood of Venus Drive. "This market segment is quite underserved."
Venus Drive is located just off Upper Thomson Road, an affluent landed housing neighbourhood that includes the Windsor Park Good Class Bungalow area and Soo Chow Garden. Further down Upper Thomson Road, there is the established landed estate of Tagore Avenue and Seletar Hills Estate.
Private condos in the vicinity include the upcoming 288-unit Thomson Impressions; Thomson Three, which comprises 435 apartments and 10 strata semi-detached houses, completed in 2016; and the 361-unit Thomson Grand, completed in 2015.
Nursing home with executive suites
Allium's nursing home will be among the few to contain exclusively single and companion suites, as well as executive suites. The executive suites come with their own living room and open terrace for residents to entertain friends and family, as well as enjoy greater privacy, says Poh.
Of the 129 beds, 51 are single-occupancy care suites of 225 sq ft each, while 16 are companion suites of 327 sq ft each with en-suite bathroom. The executive suites start from 409 sq ft. Six care suites and two companion suites will be set aside for residents with dementia, and 15 companion suites for subsidised residents.
Unlike most nursing homes with wards and big communal dining facilities, Allium's nursing home on Venus Drive will have more personal space and privacy for residents and their families. Instead of wards, it will feature "households" that cater for 10 to 12 residents, who will share a living and dining area and a kitchen, as well as an area for rehabilitation and exercise facilities. Programmes are also designed for more intimate group settings, notes Poh.
'Aged-care hub'
The nursing home by Allium is located amid greenery, adjacent to the Windsor Park Nature Reserve and the Island Course of the Singapore Island Country Club. Facilities include spa and hydrotherapy pools, as well as pool pavilions to allow residents to mingle among themselves and also with non-residents from the neighbourhood. "The area is quite underserved when it comes to care facilities for the elderly," notes Poh. "We're looking at a model where the nursing home could serve as an aged-care hub for the surrounding community."
Consultants from Australia and Japan have been engaged to design the nursing home and its interiors. Japanese construction company Tokyu Construction is the contractor for the project. While the space is designed to be efficient, it also takes into consideration natural light, good ventilation and healing elements.
According to GK Goh in its 2016 annual report, the nursing home on Venus Drive is not a stand-alone project. Allium plans to build a portfolio of nursing homes in various districts in Singapore, providing residents with a wider range of care options. The company intends to invest in other facets of aged care in Singapore as well, "but only where we believe that we can deliver superior services centred on the needs of the individual, and make a reasonable return for the risk and effort undertaken". The challenge will be finding appropriate sites at a reasonable cost, adds the group.
Singapore's rapidly greying population
According to the Department of Statistics, there were 487,570 people in Singapore above 65 years old as at October 2016. The figure is projected to hit 900,000 by 2030.
To better understand the needs of Singapore's rapidly ageing population, Lien Foundation and NTUC Income collaborated on a research of 998 Singaporeans aged 30 to 75 to gain insights into their aspirations and concerns about growing old in the city state.
According to the report, entitled "Supporting Singaporeans' Aspirations in Aged Care", close to half of those surveyed are willing to stay in assisted-living facilities.
However, nursing homes remain the only predominant residential care option today for those whose care needs can no longer be met at home. "This gap between Singaporeans' aspirations and the lack of choice must close quickly, because there could well be 92,000 elderly [people] living alone by 2030," commented Gabriel Lim, programme manager of Lien Foundation, in the October 2016 report.
According to the survey, nearly half said it was "unacceptable to stay in six- to eight-bedded rooms for the rest of their lives". Among the younger set of respondents, aged 30 to 44, the desire for privacy in nursing homes emerged as the second- most-important consideration. Alternative living arrangements, such as a retirement village or a senior's apartment, were the preferred choices of the younger set (30 to 44 years old), while those aged 60 to 75 opted for a senior's apartment (66%) and nursing home (58%).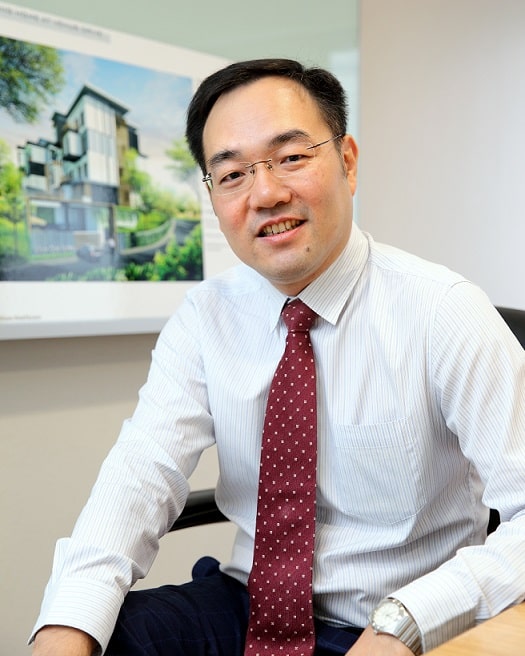 We're looking at a model where the nursing home could serve as a hub for the surrounding community

Poh
'Future proofing'
Poh agrees with the survey findings. "The baby boomers — those aged 53 to 70 — are more well-travelled and affluent," he observes. "We need a product that caters to their higher expectations."
Allium is therefore "future proofing" the nursing home on Venus Drive by providing single- and double- occupancy rooms, as well as executive suites.
Monthly charges at Allium Healthcare's facility have yet to be finalised. The prevailing rates for private nursing homes, however, range from $3,500 to $7,000 for single-occupancy rooms.
While Allium Healthcare is both developer and operator of the Venus Drive nursing home, in the long term, the firm is looking to focus on becoming a specialised service operator in aged care. It is therefore open to partnering with developers both in Singapore and around the region.
"The nursing home on Venus Drive is our entry point, but our plan is to become a long-term service provider for a whole spectrum of elder-care services, be it home care or assisted-living facilities," Poh says.
Early investor
GK Goh has been an early investor in the aged-care sector. Its maiden investment was in established nursing home provider Orange Valley in early 2000s. GK Goh subsequently sold it to KV Asia Capital in May 2014 for an undisclosed sum. In April this year, Singapore Press Holdings paid $164 million for Orange Valley, which has a portfolio of five nursing homes across Singapore with more than 900 beds.
In Australia, GK Goh's investments include a 48% stake in Opal Aged Care, an aged-care specialist provider with 72 homes across the country and more than 6,200 beds. According to GK Goh's 2016 annual report, the group's stake in Opal translated into a profit of $17.5 million in FY2016, a 42% increase from $12.3 million in FY2015.
Through its 55%-owned subsidiary, Habitat Assets, GK Goh also has a stake in retirement living assets primarily in Western Australia, as well as two other assets in Melbourne and a development site at Hidden Valley, Victoria.
Allium's Poh has more than 20 years' experience in the healthcare industry. He was appointed executive director and CEO of Allium in April this year. He is also senior vice-president for aged care at GK Goh. Prior to joining GK Goh, Poh was CEO of Mount Elizabeth Hospital, which is part of IHH Healthcare Bhd.
For now, Poh's focus is on Allium's first purpose-built premium nursing home in Singapore. "We're able to leverage our experience overseas to introduce best practices and high-quality aged-care products and services in Singapore," he says.
Even though the project is only scheduled for completion in December 2018 and ready to take in residents in early 2019, Poh says he has been receiving enquiries on Allium's website from interested parties who want to make advanced bookings.